Ultimate Boxing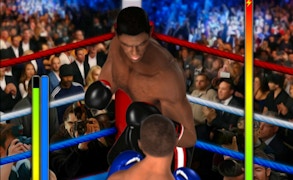 Ultimate Boxing
Step into the virtual ring with the all-encompassing thrill of combat in Ultimate Boxing. This pulse-racing, adrenaline-pumping HTML5 game is a must for those who wear their gaming gloves to bed. If you're a fan of boxing games, get ready to feel the sweat and hear the crowd cheering in this 3D world that delivers an authentic boxing experience.
The first thing you'll notice about Ultimate Boxing is its impressive 3D graphics. The attention to detail is sensational, from the muscle definition on your character's arms to the light bouncing off the polished boxing ring. You can almost feel the tension as you step onto this virtual battleground.
But it's not just about visuals. This game captures the strategic essence of boxing, taking players beyond mere button-mashing. You'll need to duck, weave, and counter attack, learning when to take risks and when to play safe. It's a remarkable insight into the world of professional boxing that will please seasoned gamers and newcomers alike.
Ultimate Boxing, as one of the most engaging boxing games out there, takes you on an immersive journey from newbie to world champion. There's a personal touch in every match - with each victory comes progress, with each defeat comes lessons learned.
If you've been searching for a high-quality, engrossing experience in the realm of fighting games - look no further than Ultimate Boxing. This isn't just a game; it's a ticket inside a digital colosseum where every punch matters. Put on your gloves and embrace the fight!
What are the best online games?
TAGS