Uber Taxi Driver 3D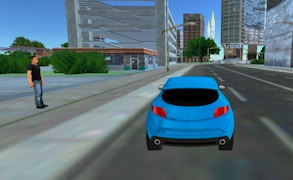 Uber Taxi Driver 3D
Get ready to buckle up and immerse yourself in the thrilling world of Uber Taxi Driver 3D, an impressive addition to online car games. Fusing the excitement of driving games with the tactical precision of parking games, it promises an adrenaline-pumping experience for all lovers of skill games. Uber Taxi Driver 3D is more than just a game—it's a highly engaging, life-like simulator game.
The gameplay is as fascinating as a city bustling with life. Players have access to multiple cars, each offering its unique driving experience. Equally captivating are the realistic scenes which fabricate a vibrant backdrop for your driving adventures. This isn't merely zipping around aimlessly; this game tests your knowledge of traffic rules, pitching you against everyday scenarios that keep your brain buzzing.
A call from a friendly passenger is never too far away, adding another layer to this immersive experience. So put on your driver's cap, navigate around the city, and deliver your passengers safely to their destinations. Remember, every successful trip earns you money to invest in a new taxi.
.
The intuitive control system lets gamers drive with either WASD or Arrow keys while the Space key activates the handbrake—a feature designed to simulate real-life driving. Uber Taxi Driver 3D embodies a perfect blend of thrill and skills that will keep you hooked for hours.
In conclusion, if you're on the hunt for a game that amalgamates elements from car games, driving and parking games into one visually stunning package, look no further than Uber Taxi Driver 3D—a truly one-of-a-kind simulator game that will challenge and entertain in equal measures.
What are the best online games?