Tuk Tuk Auto Rickshaw 2020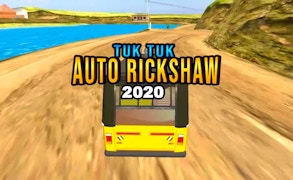 Tuk Tuk Auto Rickshaw 2020
Step into the unique universe of Tuk Tuk Auto Rickshaw 2020, a thrilling concoction of driving games, parking games, and simulator games. This game transports you to exotic locales, places where three-wheeled auto-rickshaws, colloquially known as Tuk Tuks, rule the roads.
The mission here is simple yet compelling: pick up passengers, navigate through bustling marketplaces and sleepy suburbs alike, then drop off your passengers straight to their destinations. These are not rides for the faint-hearted. The game beautifully blends elements of motorcycle games and dirt bike games, injecting adrenaline-pumping excitement at every turn.
What sets Tuk Tuk Auto Rickshaw 2020 apart is the way it turns driving into an exercise in resource management. Along with displaying exceptional driving skills, players have to manage their earnings wisely to upgrade their rickshaws or purchase new ones. Every successful fare adds to your coffers, mirroring real-life entrepreneurial spirit within this enthralling simulation.
No review can encapsulate the unexpected thrills this game throws in your path: a herd of elephants crossing the road or dodging oncoming traffic under torrential rain. It's not just about showcasing your driving prowess; it is a test of your problem-solving abilities closely mirroring scenarios from skill games.
In conclusion, Tuk Tuk Auto Rickshaw 2020 offers an enigmatic blend of genres – from car games to parking games, with cues taken from best-of-breed manual skill-based games. A must-try for any gaming enthusiast looking for something outside ordinary racing or car driving games.
What are the best online games?