TrollFace Quest: USA Adventure 2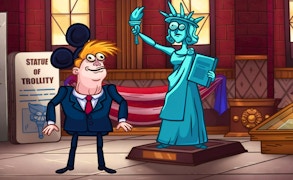 TrollFace Quest: USA Adventure 2
If you're on the hunt for fun games that will tickle your funny bone and challenge your mind, then the latest installment of TrollFace Quest with its title: TrollFace Quest: USA Adventure 2 will surely not disappoint. Engage in a light-hearted trip across America as you participate in hilarious pranks with Troll Face and his comical companions.
Calling all fans of brain games, this game will require you to think outside the box and solve puzzles in the most unconventional ways. The creators have leveled up their trolling game by incorporating famous American icons - from popular movie stars to influential politicians, adding a touch of pop culture humor that will keep you entertained throughout.
In true troll fashion, nothing is as it seems. You'll need to think creatively to successfully navigate through each level, making it not just one of those regular fun games but an adventure filled with chuckles and baffling riddles.
The game brilliantly combines witty pranks with challenging riddles making every level a unique experience. The unsuspecting characters that make appearances are sure to bring a smirk on your face as they are trolled relentlessly by our mischievous hero, Troll Face.
No stone is left unturned as Troll Face quests his way from coast to coast. Every nook and cranny of American culture is cleverly scrutinized in this epic trolling adventure, guaranteeing bouts of belly-clenching laughter and brow-furrowing puzzlement.
TrollFace Quest: USA Adventure 2 offers a refreshingly humorous take on puzzle gaming, making it stand out in an ocean of serious mind-bending brain games. If you're looking for a mental workout wrapped up in layers of light-hearted humor, this is the game for you!
What are the best online games?
TAGS