TrollFace Quest: USA Adventure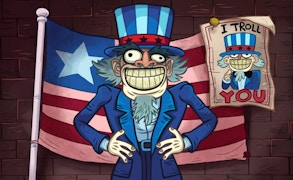 TrollFace Quest: USA Adventure
Ready to embark on a journey through the funky, funny, and mind-boggling universe of Troll Face Quest: USA Adventure? This top-tier puzzle game is here to deliver a non-stop barrage of laughs while challenging your grey matter in ways you never imagined. If you're on the hunt for fun games or brain games that defy the mundane, then buckle up for TrollFace's wild ride.
Picture this: You're trapped in a world where common sense takes a backseat, and absurdity rules. Here, every point-and-click adventure pulls you deeper into amusement and mind-bending challenges that can make anyone feel like a potato head! But fret not, because in this comical American-themed version of Troll Face Quest, every moment is filled with laughter. It's much more than just a puzzle; it's a barrel of laughs cleverly disguised as an enigmatic journey.
Tougher than any quiz game you've ever encountered, Troll Face Quest: USA Adventure is truly a testament to human ingenuity and humor. This game isn't meant for those seeking easy victories; it's designed to test the very limits of your brain while making sure every failure leaves you with a smirk.
In short, Troll Face Quest: USA Adventure is an epic fusion of fun games and brain games; it's perfect for anyone looking to escape boredom without sacrificing intellect stimulation. So gear up to LOL and tease your neurons with TrollFace Quest. It's not just a gaming adventure; it's an odyssey that dances on the fine line between hilarity and puzzlement!
What are the best online games?
Tags