Troll Boxing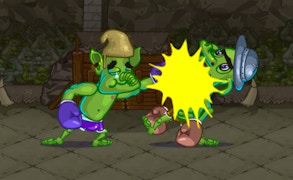 Troll Boxing
Dive headfirst into the gritty, brutal world of Troll Boxing. This isn't your average boxing game. It's a ruthless brawl, a relentless clash of fists and wits against monstrous trolls. If you're in search of adrenaline-pumping, high-octane boxing games, Troll Boxing will have you biting your knuckles in anticipation.
True to its title, Troll Boxing sets the stage for epic tussles with grizzly, grotesque trolls. But don't be fooled by their ugly mugs; these brutes pack a punch. Luckily, so do you. Your task? Show off your knockout punches and slick defensive skills as you ascend the boxing throne.
Each fight delivers an intense blend of strategy and action that will leave you breathless. Whether you're unleashing a flurry of quick jabs or landing a thunderous uppercut, each move requires precision and timing – making it one of the best 2 player games out there.
The raw energy and strategic gameplay make it great for solo adventures, but don't overlook its multiplayer potential. Grab a friend and throw them into the ring for some ferocious two-player action. Troll Boxing is not just about landing blows; it's about outsmarting your opponent and predicting their moves.
The game's gritty visuals, combined with bone-crushing sound effects, make every match feel like a championship bout. As each round intensifies, so does the rush to become champion of the ring.
In conclusion, if you're on the hunt for heart-stopping boxing games that offer edge-of-your-seat two-player modes, then look no further than Troll Boxing. So put on your gloves, step into the ring, and let those fists fly! Will you rise as the troll-slaying champion or fall before these formidable beasts? The choice is yours. The ring awaits...
What are the best online games?