Tripeaks Solitaire 100 levels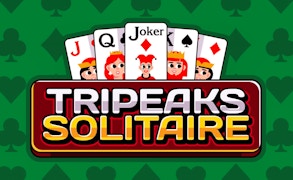 Tripeaks Solitaire 100 levels
Description
Immerse yourself in the captivating world of Tripeaks Solitaire 100 levels. This is not just a simple card game, but an enchanting journey that takes you through 100 challenging levels. Clear the table by selecting cards that are one rank higher or lower than the foundation card, unlocking beautiful backgrounds and intriguing layouts along the way. The perfect blend of strategy and luck will keep you coming back for more.
How to play
Use your mouse or touchscreen to select cards from the layout that are one rank higher or lower than the foundation card. For instance, if your foundation card is a 7, you can select either a 6 or an 8 to remove it from the layout. Acing each level requires not just luck but also a strategic approach to ensure you are not left without moves.
Tips and Tricks
To maximize your score, look for opportunities to go on long runs. The longer your run is (the more sequential cards you can eliminate without changing the deck), the more points you'll earn. Also, do not rush through levels; take time to plan your moves and consider all possible outcomes.
Features
Astonishing Artwork: Each level unlocks stunning backgrounds.
Variety of Challenges: With 100 unique levels, this game stays fresh and exciting.
Addictive Gameplay: The perfect combination of strategy and luck keeps you engaged.
Suitable for All Ages: Easy-to-understand rules make this game enjoyable for everyone.
What are the best online games?
Tags