Trickshot Arena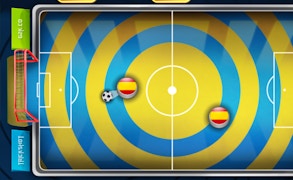 Trickshot Arena
Discover the adrenaline-pumping world of Trickshot Arena, a high-stakes virtual stadium that will test your soccer skills and strategic prowess like never before. This is not just another game in the crowded arena of ball games; this is a thrill ride that demands precision, daring and a keen understanding of the beautiful game.
Trickshot Arena presents you with 22 challenging scenarios where you are required to score from all kinds of angles and positions. As you advance through the game, it becomes increasingly difficult to find the back of the net but therein lies its charm. This is not a game for those who give up easily; it's a game for those who relish a challenge.
You have only three attempts in each scenario to prove your worth in this epic test of soccer games. You need to understand that each shot counts, hence precision is key. But don't worry - while it's challenging, it's also incredibly addictive. You'll find yourself attempting just one more shot time and time again, desperate to perfect your aim and prove you've got what it takes.
To call Trickshot Arena simply another among Skill Games would not do it justice. It's more than just a game; it's a testament of your soccer skills, your tactical intelligence and your determination to succeed against all odds. So go ahead, step into the arena and remember - gladiators never back down!
What are the best online games?