Treasures of the Mystic Sea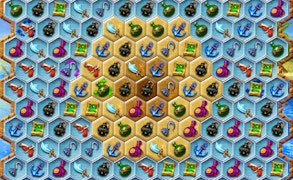 Treasures of the Mystic Sea
Set your sails high and embark on an extraordinary voyage with the captivating Treasures of the Mystic Sea, a must-try for all fans of match 3 games and pirate games. Plunge into the depths of this thrilling game, where you'll be challenged to align powerful artefacts in trios to unearth hidden treasures.
As an intriguing blend of classic match 3 game mechanics with an enthralling pirate adventure narrative, Treasures of the Mystic Sea provides a truly captivating gaming experience. This isn't your typical match game; it's a plunge into a mysterious underwater world filled with ancient treasures and swashbuckling pirates.
The elegance of Treasures of the Mystic Sea is found in its effortlessly seamless design. The vibrant colors and detailed graphics breathe life into each level, transporting players into the heart of this pirate world. And don't let the seemingly simple gameplay fool you - challenging levels await that will push your strategic skills to their limit.
Apart from its compelling visuals, this jewel in the crown of pirate games also offers enchanting background music that echoes throughout your journey. It's just enough to evoke a sense of adventure without overpowering the strategic element of gameplay.
Treasures of the Mystic Sea successfully combines classic gaming concepts with innovative design features. Its immersive storyline, challenging puzzles, and eye-catching visuals blend together into an unforgettable gaming experience. Whether you are an ardent fan of match 3 games or simply seeking a new gaming experience within the realm of pirate games, Treasures of the Mystic Sea is sure to provide hours upon hours of fun-filled excitement.
In conclusion, Treasures of the Mystic Sea redefines what it means to be a match 3 game - it serves up a hearty feast for both puzzle enthusiasts and pirate lovers alike!
What are the best online games?