Train 2048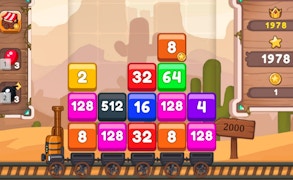 Train 2048
Get ready to embark on a mind-boggling journey with Train 2048, one of the most engaging number games currently on the market. This is not just another game; it's an exhilarating brain expedition where math and strategy intersect seamlessly, creating a fascinating gaming experience in the world of 2048 games.
Train 2048 captivates with its ingenious design that effectively combines the thrill of number crunching with strategic gameplay. Ignite your cognitive engines as you maneuver through this captivating brain game, where every decision counts. The game cleverly intertwines mathematical elements, making it not just another mindless entertainment but also a fantastic tool for learning and keeping your brain agile.
The beauty of this game lies in its complexity masked by simplicity. Each level presents a different challenge, posing new problems to solve and routes to explore. Train 2048 draws inspiration from popular math-based puzzles, successfully carving out its niche in the realm of math games.
This innovation sets Train 2048 apart from other games. It elicits a sense of accomplishment with each victory, effectively encouraging you to keep progressing through intricate mazes packed full of mathematical conundrums. The tension builds as you edge closer towards that elusive 2048 tile, resulting in an immensely satisfying journey from start to finish.
In conclusion, Train 2048 isn't just an ordinary puzzle game; it's more than that. It's a challenging yet rewarding escapade that sharpens mental acuity while providing hours of enjoyment for puzzle enthusiasts. So, grab your ticket now and get ready for an unforgettable ride with one of the most thrilling number-based challenges ever.
Don't miss out on this riveting brain train adventure – Train 2048, undoubtedly one of the standout number games on the market.
What are the best online games?