Traffic Racer 3D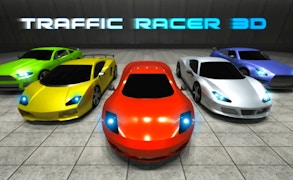 Traffic Racer 3D
Rev up your engines and brace yourself for exhilarating action on bustling highways with Traffic Racer 3D, a high-octane addition to the world of car games and driving games. This combustible offering boasts an impressive array of features that will have you gripping your seat as you weave through traffic, putting your driving skills to the ultimate test.
The game calls out to all driving enthusiasts, promising an adrenaline-fueled experience unlike any other. The real magic of Traffic Racer 3D lies in its raw, unfiltered challenge – can you control a high-speed vehicle through relentless traffic with nothing but your keyboard controls? Whether you're a seasoned racing veteran looking for a fresh challenge or a newbie keen on sharpening your reflexes, this game will not disappoint.
You don't just play Traffic Racer 3D; you live it. The detailed, near-lifelike 3D graphics make every race feel like a thrilling, white-knuckle ride on the fast lane. Not to mention, the game's meticulously designed physics engine adds depth and authenticity to every collision and near miss. This isn't just another bland entry in the sea of generic car games; Traffic Racer 3D is a bold testament to what happens when virtual reality edges closer to reality itself.
Every aspect of Traffic Racer 3D - from its sleek interface to its pulse-pounding gameplay - is designed with the player in mind. So if you're keen on proving your mettle behind the wheel and feel that rush of adrenaline coursing through your veins as you dodge vehicles at breakneck speeds, then what are you waiting for? Join the ranks of skilled drivers who've made their mark on the virtual highways of Traffic Racer 3D and show them what you're made of!
What are the best online games?
Tags