Traffic Jam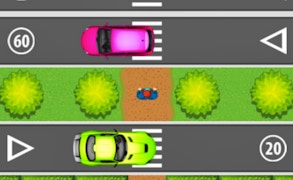 Traffic Jam
Buckle up, adrenaline junkies! Clear the lanes as we dive headfirst into the fast-paced, heart-pounding universe of the captivating car game, Traffic Jam.
Who knew that a simple task like crossing the street could be transformed into such an exhilarating driving game? None other than the ingenious creators behind Traffic Jam. This game is not your typical run-off-the-mill car chase or racing competition. No, it offers something refreshingly different yet equally riveting.
As a compassionate Samaritan in this metropolis of mayhem, your mission is to help hapless pedestrians navigate the perilous highways teeming with unyielding traffic. Sounds simple? Think again! This quest is both challenging and mentally stimulating, testing your ability to strategize while keeping you on edge.
In Traffic Jam, nothing is taken for granted; every traffic light pose as a strategic challenge; every speeding car represents an impending hazard; and each pedestrian you help becomes a triumphant victory. It's a comprehensive package of fun-filled exhilaration that lures you in further with every new level.
This game's strength lies in its outstanding ability to weave strategy and simulation into one highly engaging experience. It remarkably encapsulates the essence of real-world traffic navigation without sacrificing the thrilling elements typically associated with car games or driving games.
The standout feature has to be the vivid graphics that enhance the overall gameplay experience. Its attention to detail is stunning marrying reality with virtual fun effortlessly.
So strap in and prepare for an adrenaline-fueled journey through bustling city streets with Traffic Jam. It's not just about winning; it's about survival, strategy and utmost excitement! It's the perfect fit for anyone seeking some intense gaming action while also flexing their cognitive muscles.
What are the best online games?
Tags