Time To Park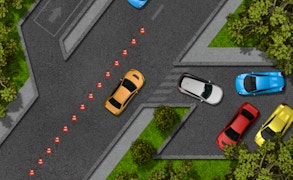 Time To Park
If the thrill of racing and the precision of parking are your vices, then Time To Park is a must-try for your adrenaline junkie soul. This breathtaking amalgamation of car games, driving games, and parking games is sure to leave you with an unforgettable gaming experience.
Time to Park is not just about gas and speed. It's about timing and precision too! This game plunges you into bustling city streets, putting behind the wheel of a car with a mission: drive without veering off-road, avoid hitting other cars or obstacles, and park at specific spots.
Each level presents its own unique challenges that will test your driving prowess to its limit. The pressure builds up as you have to demonstrate agility in avoiding traffic while keeping your eyes on the prize - that marked parking spot. Maneuvering through complex, nerve-wracking traffic scenarios intensely reflects real-life driving situations, which adds another layer of authenticity to this epic concoction of car games.
The aesthetic appeal of the game is commendable too. Feel the rush as you weave through unavoidable obstacles amidst vibrant urban landscapes that are designed impeccably to keep you hooked for hours upon end.
In essence, Time To Park beautifully integrates elements from a variety of driving games and parking games, providing an exhilarating platform for all fanatics who fancy heart-pounding car games. From novice drivers itching for some action behind the wheel to seasoned gamers seeking their next thrilling adventure - Time To Park caters to all!
This game push the boundaries of traditional racing games and promises nothing but intense excitement and edge-of-the-seat gameplay. So buckle up - it's Time To Park!
What are the best online games?