Thief vs Cops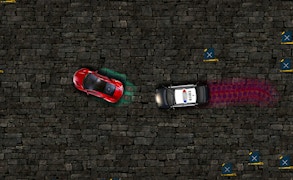 Thief vs Cops
If you've been on the hunt for exhilarating car games, strapping into the driver's seat in Thief vs Cops will undoubtedly satiate your adrenaline cravings. Delivering a thrilling blend of driving games and escape games, it ensures your pulse never drops below the redline. With its fast-paced gameplay and engaging mechanics, this addition to the exciting world of Skill Games will definitely rev your gaming engine.
The start line of Thief vs Cops hints at a simple chase scenario, but as you navigate the game, you'll find it to be a calculated test of timing and precision. The cops are relentlessly on your tail, and your main objective is to elude capture for as long as possible. This intense hide and seek with patrol cars adds an enthralling twist to conventional police games.
The controls in this driving game are user-friendly, making it an inclusive choice for gamers of all ages. The mouse is all you need to maneuver your car around obstacles and away from the tenacious police force. As you tear down virtual highways, collecting gas cans becomes critical to keep going, while engaging turbo boosts enable lightning-fast escapes.
The strategic placement of acid trails by the police adds yet another dimension to this high-octane escape game. Dodging these hazardous puddles is pivotal if you want to keep your getaway vehicle intact. Their perilous presence on the road amplifies the thrill factor, upping the ante in each chase.
In conclusion, Thief vs Cops is an action-packed driving game that perfectly weaves elements of skill-based gameplay with high-speed chases worthy of any top-tier car or police games collection.
What are the best online games?