There Is No Game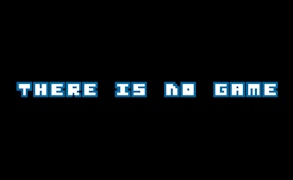 There Is No Game
People are able to go to incredible lengths for the purpose of a joke, including making a whole non-game called There Is No Game. The moment you start playing, you get the idea that you're not supposed to take the game seriously in any way. It's a 2D puzzle-like experience with pixel art that challenges you to navigate the UI in order to play the non-game in hopes of finding a game. As you do, you'll be accompanied by a narrator who does not want you to experience the game that isn't there, but you'll just have to ignore him in the name of playing.
About There Is No Game
This game may have been made as a joke or as an internet gimmick for people and personalities to experience in a variety of ways. It's definitely unconventional in terms of its presentation. Although beats will play out in the same spots, how you get and respond to them is unique to you. Whether this means you will have a good or a bad time ultimately comes down to when you actually decide to game. If you're looking for a short session or quirk in your schedule, this is a title to check out.
How to Play
There Is No Game could be considered a point-and-click game and that means you'll be using the mouse for all of it. Your main options are to mouse the cursor around and to click on things. As more items become revealed, you be able to click and drag some of them around to different parts of the screen. Once the game progresses, you'll also get access to different screens that you'll be able to navigate between by clicking the glowing arrows. You'll also be able to drag items between screens by holding them over the green arrows. As you make things happen, you'll naturally progress but you can also listen to the narrator for guidance. Doing these things will help you get to the end of the non-game.
Tips and Tricks
This is a game that thrives on curiosity and tampering so don't feel shy about clicking on everything. Your cursor takes the shape of a red X but will change when hovering over something you can click and affect. A good rule of thumb is to throw objects around to see what kind of effects they have on the environment and other objects.

Game Details
Developer: Kamizoto
Platforms: Web Browser (PC and mobile)
Languages: English and French

Gameplay Footage
FAQs
How was There Is No Game created?
The developer made the title as an entry in the Construct Conception Game Jam using software called Constructs. It was released on June 15, 2015.

Did the game fail?
While There Is No Game never reached its funding goal on Kickstarter, a sequel called Wrong Dimension was eventually developed and released in 2020. It's available across various mobile platforms and has been reviewed quite highly.
Games similar to There Is No Game
It may be hard to classify this title since it's meant to be a non-game, but it's been placed in the Puzzle and Fun Games categories on GamePix. It shares these libraries with games like Tiny Tomb, Trollface Quest, Charge Now, and Angry Gran.
What are the best online games?