The Black-Eyed Tile Block Puzzle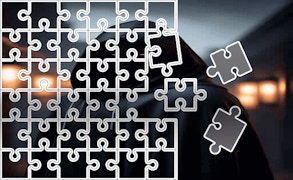 The Black-Eyed Tile Block Puzzle
Description
Immerse yourself in the captivating world of The Black-Eyed Tile Block Puzzle. This classic puzzle game challenges your mental agility as you slide blocks to recreate a distinct image. With every move, the picture slowly comes to life, drawing you deeper into the game's enchanting universe. The perfect blend of strategy and fun, this game will keep you absorbed for hours on end.
How to Play
To play this mind-stimulating game, simply touch or click on a tile block to slide it across the grid. Your goal is to rearrange the scrambled tiles so they form a complete picture. The quicker you solve the puzzle, the higher your score. Remember, each move counts!
Tips and Tricks
Prioritize the corners and borders when solving puzzles as they provide a solid framework for the rest of the image. Try not to rush - sometimes taking a moment to assess can result in a faster solution. Keep practicing; like any skill, your puzzle-solving abilities will improve over time.
Features
Classic tile-sliding gameplay that tests your strategic thinking.
Unique images that add a layer of mystery and intrigue.
User-friendly interface with easy-to-use controls.
The game offers endless replayability with new puzzles each time.
What are the best online games?
Tags