Text Twist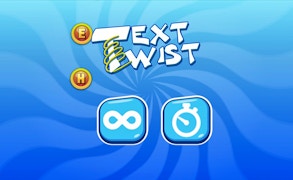 Text Twist
We're so used to using words that we often don't think too much about them until we're challenged by games like Text Twist. So much time at school and home is spent teaching us about language and spelling to the point where it becomes second nature. But, this game is here to test how much you really know about words. Not only does it call upon your vocabulary but it also tests whether you can see words among letters. It's a game that when you see the answers filled in, you wonder how you could've missed something so obvious that didn't become clear until just then.
About Test Twist
As we get older, we look for ways to keep our minds active and maintain our sharpness which is why word games become so valuable. From classics like crossword puzzles to the most modern video games, the idea of testing our knowledge of language and spelling never fails to be effective in making us think. The game is clear and direct with what you need to do and the only thing you need is your own mind. You start to think about conversations you've had, notes you've written, and classes you've taken just in the hopes of filling in a few blanks.
How to Play
Test Twist is a 2D word game that you can play with the mouse and keyboard. Each round presents a screen that gives you a bunch of blank words in lists ranging based on their number of letters. Underneath the lists is the collection of letters you have to work with and a space to arrange them. The goal is to fill in as many blank words as possible with the letters that you have available.

You can place letters in the blank space by either clicking on them or typing the related letter key. When you feel that you've arranged a word, hit the "Enter" button to submit it. If it's successful, it will fill in one of the blank words on the lists. If it doesn't, a prompt will pop up and reject the letters. You can also click the "Twist" button to randomly arrange the letters in hopes of spotting something new. To move on to the next round, you need to earn enough points and aim to fill in one of the longest words on the lists.

Tips and Tricks
When you get your letters, always center your guesses around any vowels that you have among them. If you have any "S" letters in your selection, you can assume that several words are just the plural form of other words in the list.
Text Twist Game Modes
The game starts off in a default mode, but you'll unlock other modes as you continue to play that can add or reduce the challenge.
Timed - You have a set amount of time to fill in as many words as possible.
Untimed - You have as much time as possible to try and fill in all the words.
Difficulty - Change the difficulty to determine how many letters you have to arrange.

Game Details
Developer: Absolute Hero Games
Platforms: Web Browser (PC and mobile)
Languages: English

Gameplay Footage
FAQs
What is Super Text Twist?
This game is one of the newer versions of the base model that's been adapted for mobile devices. It's also more generous with its time limit.
How many Rounds are there?
Text Twist can be a challenging game but victory can also be quite close since there are only 5 rounds to complete.

Games similar to Text Twist
With the words and puzzle elements at play, this title fits into the Puzzle and Word Games categories on GamePix. There are also games like Overloaded Bus, Fish Love, Hangman Challenge, and Word Connect.
What are the best online games?