Tennis Pro 3D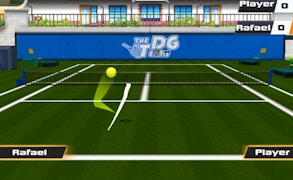 Tennis Pro 3D
Experience the electrifying thrill of court action with Tennis Pro 3D, one of the most realistic ball games ever crafted. This exhilarating sports game brings you directly into the world of professional tennis, providing an immersive experience that simulates real-life tennis matches with unparalleled accuracy.
A standout among all world cup games, Tennis Pro 3D serves up an impressive array of lifelike animations and effects, masterfully designed to recreate the dynamic tension and rapid-fire action of a high-stakes tennis match. From the meticulously crafted physics to the palpable court atmosphere, every element adds a layer of authenticity that pulls you directly into the world of competitive tennis.
What sets this game apart however, are its unique and innovative controls. As intuitive as they are challenging, these controls provide a rewarding skill-based experience that caters to both seasoned gamers and aspiring novices. Regardless of your proficiency level, you'll revel in the complex tactics and fast-paced maneuvers that make up this quintessential Skill Game.
The graphics are no mere afterthought either; they're spectacularly stunning – a testament to the game's commitment to offer an authentically riveting sporting spectacle. Whisking players away from reality into a striking 3D tennis court setting – every lunge, swing, and backhand made feels incredibly real.
Bringing together design brilliance, seamless gameplay, and mind-blowing visual effects all in one package – Tennis Pro 3D is an absolute must-have for both gaming enthusiasts and sports lovers alike. It's not just about playing tennis; it's about living it!
If you're seeking out epic world cup games, or striving to test your prowess in dynamic skill games, nothing serves up adrenaline-fueled intensity quite like Tennis Pro 3D - a titan amongst all ball games.
What are the best online games?