Taxi Pickup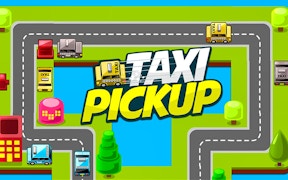 Taxi Pickup
Step into the bustling metropolis and slip behind the wheel in the dynamic brain-game of Taxi Pickup. Catering to lovers of logic puzzles and car games alike, this thrilling ride stimulates not only your reflexes but also your strategic thinking abilities. This riveting concoction of a taxi simulation and a brainteaser leaves gamers yearning for more.
Experience the pace of the city, join the ranks of Uber and Lyft drivers, and become an integral part of urban life. As a taxi driver, your mission is not just to race through traffic but also to plan optimal routes in advance. Your ultimate aim is to satisfy your customers by giving them the perfect journey experience. The young and trendy game enthusiasts will find it an easy grasp, reflecting the on-demand reality they are accustomed to.
Taxi Pickup is more than just a car game; it's a test for your brain's agility and adaptability. Each level poses different challenges that demand not only speed but also strategy. Knowing when to accelerate, when to swerve, which streets to avoid, or when to pick up passengers are just as important as reaching your destination on time.
The interactive design, intuitive controls, and high-quality graphics contribute to the real-life feel of this game. Every ride is an immersive trip through realistically-designed city landscapes.
While Taxi Pickup may be based on a simple concept – that of picking up and dropping off passengers - it quickly emerges as an addictive brain game that keeps you hooked for hours. Its seamless blend of action and strategy makes Taxi Pickup a must-try for fans of puzzle games and car games alike.
In conclusion, whether you're looking for some quick fun or planning for a long haul trip into strategic gaming, make sure you have Taxi Pickup buckled up in your gaming library!
What are the best online games?
TAGS