Taxi Driver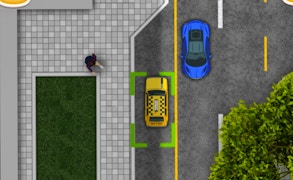 Taxi Driver
Immerse yourself in the exhilarating world of Taxi Driver, an enthralling addition to the realm of car games that sets itself distinctly apart. This is not just one of those run-of-the-mill driving games but a dynamic journey that challenges your skills and reflexes, pushing you to clinically maneuver your way in an environment that screams chaos.
As soon as you take control of your taxi, you're thrust into a reality that thrives on high-speed chases and adrenaline-pumping encounters. Your task? Simple, yet challenging- deliver passengers promptly to their destination. But be warned- you're not just a taxi driver, but the craziest driver in the world!
Your capability will be tested as you navigate through traffic that's more chaotic than a New York rush hour. The disoriented commuters won't make it easy for you. With odds stacked against you, it's up to your deft handling and razor-sharp turns to reach safely in time.
Taxi Driver brilliantly conjures up the essence of parking games too; weaving into tight spaces and executing flawless parking maneuvers are all part of this engrossing experience. The game pays you handsomely if you're agile like a comet, making it even more alluring for those looking to conquer their leaderboard rivals.
In this game brimming with suspense and thrill, mastery over Skill Games is your ultimate armor. Adapt swiftly, react rapidly and take calculated risks - only then can you achieve true greatness in Taxi Driver. Set forth on this thrilling voyage, ride through pandemonium, carve your own path and become the greatest taxi driver there ever was!
So buckle up gamers, as Taxi Driver is set to take you on an unforgettable journey! It's an absolute must-try for enthusiasts of car games ready for a new challenge.
What are the best online games?