Targetter Game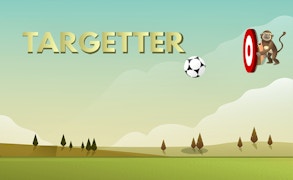 Targetter Game
Description
Delve into the world of Targetter, a fresh addition to the hyper casual gaming realm. Gamers will embark on a series of engaging activities, aiming objects at given targets. This game draws its inspiration from fan-favourite sports including Croquet, Golf, and Archery among others. Each level is filled with varied obstacles that gamers must skillfully avoid while setting their aim towards the goal. The beautiful blend of simple yet thrilling gameplay offers an unmatched gaming experience.
How to play
To start playing Targetter, you simply need to aim your object towards your target and release. Be sure to steer clear of any approaching obstacles that could hinder your progress. The controls are smooth and responsive, making it easy even for beginners. The more accurate you are, the higher the points you score. As you progress in the game, the levels become more challenging but also more rewarding.
Tips and Tricks
The key strategy in Targetter is accuracy and time management. Aim accurately at the target but be sure to release quickly before any obstacles can disrupt your shot. Remember to anticipate the motion of moving obstacles so as not to collide with them. Mastering these skills will help you score higher points in every level.
Features
Diverse Gameplay: Incorporates elements from various sports games.
Challenging levels: Higher levels come with increased difficulty for a fulfilling gaming experience.
User-friendly Controls: Smooth and responsive controls suitable for all gamers.
Addictive: Easy-to-learn but hard-to-master gameplay ensures players keep coming back for more.
What are the best online games?