Swimming Hero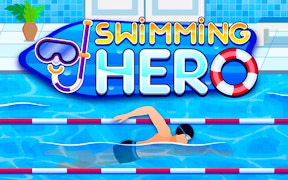 Swimming Hero
Dive headfirst into the invigorating world of Swimming Hero, the latest addition to the expanding universe of sports-centric skill games. This endearing and adrenaline-filled game will have you hooked from the moment you tap your screen to take your first plunge into its indoor professional swimming pool setting.
The premise of Swimming Hero might seem simple, but it's an intricately constructed testament to the beauty of simplicity in gaming. Much like its athletic counterpart, success in this game isn't just about raw power – it's about technique and timing. As you tap to change lanes and avoid obstacles, the game effortlessly bridges the gap between virtual and physical sports.
The developers have ingeniously incorporated a collecting element into Swimming Hero. Gathering up snorkels not only boosts your speed, amplifying the thrill factor, but also adds an extra layer of strategy. Similarly, collecting shields provides protection, making it a crucial part of your gameplay strategy.
One undeniable highlight of Swimming Hero is its avoidance of finite gameplay. The game is endless, which means there's always room for improvement, always a higher score to aim for. This creates an addictive 'just one more go' atmosphere that carries with it a thrilling air of unpredictability.
In conclusion, Swimming Hero is much more than another addition to the sports genre; it's a testament to how skill-based games can hold their own in the vast gaming industry with their distinctive blend of strategy, action, thrill and pure fun. Whether you're an seasoned amateur or a pro gamer with countless titles under your belt, Swimming Hero promises hours of immersive gameplay that will keep you coming back for more.
What are the best online games?
Tags