Sweet Sugar Match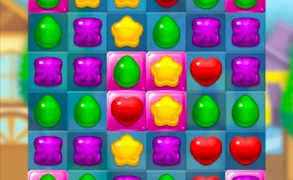 Sweet Sugar Match
In the universe of match 3 games, the sweetest puzzle on the gaming market is undoubtedly Sweet Sugar Match. This dynamic and brain-tickling game is a delightful blend of robust mental workouts and sugar-coated delight, setting a new standard for brain games amidst gamers.
The myriad of levels in this game assures endless hours of riveting gameplay. Each level meticulously constructs an intricate puzzle, pushing you to dig deeper into your cognitive resources and strategize effectively. The progressive difficulty curve will leave both casual gamers looking for a quick mental flex, and hardcore puzzle enthusiasts seeking the next brain-buster, deeply engrossed.
The amazing graphics are worth every commendation they receive. The vibrant color palette teems with an assortment of succulent candies, amplifying the appeal of Sweet Sugar Match tenfold. The top-notch visual design does not just remain confined to the sweets; even the tiny elements like buttons and icons have been rendered with acute precision and artistic finesse.
Sweet Sugar Match succeeds in marrying thrilling mental exercise with delightful visual experience sustaining long-term player engagement. Its multitude levels keep dishing out fresh challenges, keeping gamers hooked indefinitely. It's not an exaggeration to say that this game has set a new bar for other match 3 games to strive for.
If you're a fan of stimulating, candy-themed brain games, Sweet Sugar Match is unmissable. It's stimulating yet relaxing nature makes it perfect for any puzzle-loving gamer seeking his/her next addiction in the match-3 genre. Wrap your gaming taste buds around this confectionery puzzler today!
What are the best online games?
Tags