Sweet Crush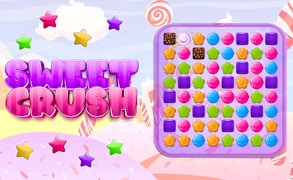 Sweet Crush
Description
Sweet Crush is an addictive and engaging match-3 puzzle game. The game invites you to a world filled with different types of delicious candies. The goal is simple - combine three or more identical candies to pop them, earning points in the process. With an array of special power-ups, clear screens and create candy blasts to amass even more points. Challenge your friends and aim for the top score!
How to play
Playing Sweet Crush is intuitive and straightforward. Simply click or swipe to swap adjacent candies and make matches of three or more identical ones. The matched candies will disappear, and new ones will fill their place—utilize unique power-ups, like candy bombs for bigger explosions. Your progress is measured by your accumulated points, so aim for the highest score!
Tips and Tricks
In Sweet Crush, strategic thinking pays off! Always look out for potential 4 or 5-candy combinations, as they yield high points and create powerful power-ups. Utilize these power-ups wisely - they can effectively clear multiple candies at once, helping boost your score.
Features
Mesmerizing candy graphics: Enjoy visually appealing gameplay filled with colorfully designed candies.
Variety of Power-ups: Make use of various unique power-ups to aid your gameplay.
Social integration: Connect with friends and compete for high scores.
Straightforward controls: Easy-to-understand gameplay suitable for all ages.
What are the best online games?
Tags