Supercars Parking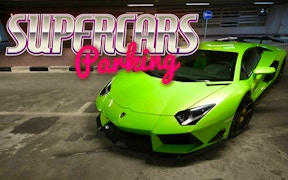 Supercars Parking
Enter the high-octane world of Supercars Parking, a game that combines the thrill of racing with the precision of parking games. You take on the role of a supercar aficionado, tasked with navigating your luxurious Lamborghini through intricate mazes to find the perfect parking spot.
The game is not just about speed – it's a distinct blend of adrenaline and strategy that sets it apart from typical car games. The objective is straightforward, yet deceptively complex – collect three stars and locate your designated parking space amongst 10 different polygons. But don't let its simplicity fool you - this game will put your reflexes and strategic thinking to the ultimate test.
What sets Supercars Parking apart from other driving games, is its emphasis on precision and spatial awareness. You'll have to master front, back and parallel parking in high-pressure situations – a sweet challenge for those who love to fine-tune their skills. This captivating gameplay has turned Supercars Parking into one of the leading Skill Games.
This game does more than offer mere entertainment. It transforms mundane moments such as parking into a thrilling task, as you manoeuvre your luxurious ride through virtual environments that are as realistic as they are challenging. The higher levels become increasingly tough, ensuring there's always something to keep you gripped.
Supercars Parking is an exhilarating mix of pace, precision, and strategy - bringing a new twist to conventional racing games. If you believe that gaming should be more than just about crossing finish lines first, then this blend of racing intensity and tactical gameplay is sure to fuel your gaming passion.
In conclusion, whether you're a veteran gamer seeking a new challenge or an amateur searching for an engaging pastime, Supercar Parking delivers in spades - an ideal blend of racing thrill and parking intrigue encased in one single game!
What are the best online games?