Super Monkey Juggling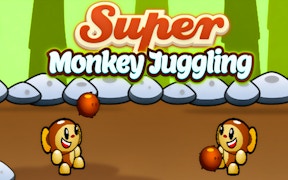 Super Monkey Juggling
Description
Enter the vibrant jungle where engaging primates are at play in Super Monkey Juggling. In this game, your task is to help the monkeys catch and juggle a deluge of coconuts. The action gets more intense as you progress, with the number of coconuts increasing into hordes. It's a swift-paced game with cool graphics and exciting gameplay that challenges your reflexes and coordination.
How to play
The game mechanics of Super Monkey Juggling are simple and straightforward. With intuitive controls, all you need to do is tap or click where you want the monkey to juggle the coconut. The challenge lies in maintaining the balance and rhythm, for a slew of coconuts to catapult your score. Time your moves perfectly to get an unbroken juggle streak!
Tips and Tricks
In Super Monkey Juggling, timing is everything. Focus on the trajectory of falling coconuts and tap at the right moment for perfect tosses. As you progress, expect more coconuts - keep calm, maintain rhythm and build up a high score!
Features
Stunning Graphics: The game boasts vibrant, jungle-themed graphics.
Casual Gameplay: It's an easy-to-play yet challenging game suitable for all ages.
Festive Music: The upbeat tunes enhance the energetic environment.
Skill Enhancement: Sharpen your reflexes while enjoying this entertaining game.
What are the best online games?