Super Hexbee Merger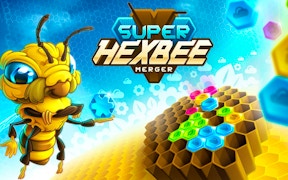 Super Hexbee Merger
Discover the World of Super Hexbee Merger
Dive into the vibrant realm of Super Hexbee Merger, a captivating puzzle experience where your strategy meets vibrant hexagons. Your mission? Align three hexagons of varying hues to accrue points. It's a dynamic dance of colors, shapes, and quick decisions!
The Gameplay
From the base, lift the hexagonal ensemble and place it onto the grid, ensuring it aligns with hexes sharing its color. Accomplish your goals and behold the special "merger" hexagons coming to life. But tread with caution - the grid's space is precious, and running out is not an option! Hone your strategy, place hexagons with precision, and ascend the ranks of hexagonal mastery.
Rise to the Challenge
Can you navigate the colorful complexities and emerge victorious? Engage with Super Hexbee Merger and put your puzzle-solving prowess to the test. It's more than a game; it's a test of wit, strategy, and colorful coordination!
Release & Developer Info
Introduced to the gaming world in May 2023, Super Hexbee Merger is the brainchild of the innovative TuuT. Whether you're on a web browser, Android, or iOS, the game's vibrant challenges await you.
Controls
Control is at your fingertips! Use the left mouse button to effortlessly drag and position your hexagon.
What are the best online games?