Striker Dummies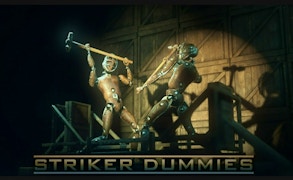 Striker Dummies
Welcome to the fast-paced, adrenaline-pumping world of Striker Dummies, one of the most exhilarating fighting games in the market. This remarkable game is an explosive combo of strategic maneuvering and raw strength, drawing gamers across the globe into its enthralling grip.
Tagged under battle-games, Striker Dummies takes the fighting game genre to a whole new level. You wield a mighty hammer as your weapon of choice, striving to destroy your opponents in dynamic head-to-head combat. But this is no ordinary button-masher - you'll need to time your attacks precisely and anticipate your opponent's moves to come out on top.
The unique feature that sets Striker Dummies apart from other two-player-games is the option to battle against an AI dummy. Rest assured, this isn't a mindless drone that falls at every swing of your hammer; the AI Dummy puts up a robust fight, pushing you to refine your tactics and improve your gameplay significantly.
With each round requiring you to obliterate 5 dummies before claiming victory, tension runs high right until the final blow. Whether you're engaging in a friendly skirmish in 2-player mode or going solo against the well-crafted AI Dummy, victory never comes easy – but boy is it sweet when it does!
In summary, Striker Dummies offers an immersive experience that will get your heart racing and fingers itching for more action. If you're fond of fighting games and are game for a rigorous battle adventure, Striker Dummies might just be the adrenaline fix you need.
What are the best online games?