Streets Rage Fight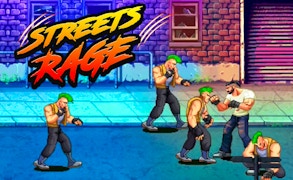 Streets Rage Fight
Step into the ring and relish this retro-infused spectacle embodied in the classic free arcade fighting game, Streets Rage Fight. This pixel-powered blast from the past expertly marries old school gaming aesthetics with modern gameplay mechanics to bring you an unmissable battle game.
Drenched in pixelated artistry, Streets Rage Fight is a fast-paced homage to retro games, taking you back to simpler times when button mashing was a legitimate strategy, and 8-bit soundtracks ruled the gaming scene. However, this marvel is more than just a glorified nostalgia trip - it's a compelling throwdown that asks your hands to dance in rhythm with cascading punches and kicks.
Your opponents rush you from both sides of the screen—each one a unique threat that needs immediate attention. You'll need lightning-fast reflexes and surgical precision—a true embodiment of a Kung Fu Master—to topple these foes. There's no room for hesitation in these boxing games, only calculated action garnished with old-school bravado.
The action is relentless, the stakes are high, and every moment is filled with adrenaline-fuelled thrills as you navigate your way through wave after wave of adversaries, each one more challenging than the last. All these combine to make Streets Rage Fight not just another retro game—it's a reinvention of the genre that dares to push back against more modern counterparts.
In conclusion, Streets Rage Fight is not just an ode to classic arcade gaming—it's a testament to how those old school aesthetics can be revisited, reimagined and reinvigorated for the contemporary gaming scene. It's time for you to don your gloves and answer the call to battle as you rediscover what made us fall in love with this ground-breaking beat-'em-up genre. This isn't just much fun—it's pure nostalgic nirvana!
What are the best online games?