Street Racer Underground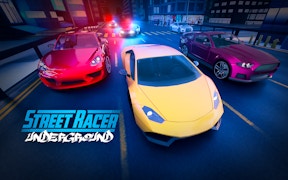 Street Racer Underground
Welcome to the thrilling world of Street Racer Underground, a heart-pounding addition to the realm of car games that will surely give your adrenaline a jolt. If you're a devotee of driving games and skill games, then this immersive racing adventure is undoubtedly for you.
Prepare yourself for an exhilarating journey as you purchase your first ride and gradually elevate its style till it oozes hotness. Street Racer Underground isn't just about buying cars; it's all about transforming them into objects of desire and symbols of speed. The endless mode is filled with countless checkpoints designed to test your driving skills and keep you on the edge.
Moving beyond the mundane, Street Racer Underground introduces an exciting element of danger with in-game police chases that will leave you feeling breathless. The fierce competition doesn't end there, prepare to pit against other skilled drivers in four challenging racing events. Every race in this enthralling game tests different aspects of your driving skills, making it an irreplaceable gem among car games.
And what's racing without some 'oomph' on the side? You have your babe cheering for you at every step, aiding you through the thrilling expeditions! Don't miss out on combining your nitros as frequently as possible, because nothing beats the rush of a sweet speed bonus.
Street Racer Underground isn't just another name in driving games; it's a holistic experience accompanied by captivating beats and superior graphics that'll keep you hooked for hours. Buckle up and get ready for an unforgettable ride!
What are the best online games?