Street Mayhem - Beat Em Up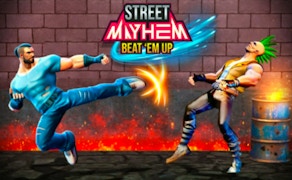 Street Mayhem - Beat Em Up
Step into the intoxicating world of Street Mayhem - Beat 'Em Up, a riveting addition to the pantheon of boxing games that will have you hooked, round after adrenaline-fueled round. This isn't just another entry in the field of battle games. The experience is more akin to a thrilling journey, where every punch thrown and every knockout secured feels like a victory.
Street Mayhem offers an engrossing storyline; one where you're not just fighting for wins, but battling for survival across different backdrops such as the grim Dark City, the mystical Forest, bustling City Town and ominous Castle. Accompanied by allies Edward, Jennifer, and Russell, this fight becomes an immersive narrative that transcends typical 2 player games.
Each character is beautifully crafted with their own unique abilities and style. The gameplay doesn't just demand quick reflexes; it demands smart strategies and matching wits against your adversaries. Think chess, but with more punches and uppercuts.
The game truly shines in its 2 PLAYER mode. Classic fights with friends become epic battles for dominance where winning three rounds can make you the undisputed champion. Whether it's showing off your superior boxing skills or seeking sweet revenge on a gloating buddy, Street Mayhem never fails to deliver electrifying bouts.
In conclusion: if you're a fan of fast-paced action and strategic gameplay wrapped in an engaging narrative, then Street Mayhem - Beat 'Em Up promises an unforgettable gaming experience that goes beyond traditional boxing games.
What are the best online games?