Street Fight King of the Gang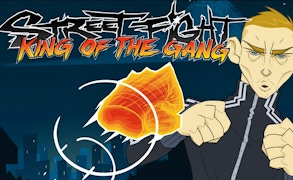 Street Fight King of the Gang
Step into the gritty underworld of the mean streets with Street Fight King of the Gang, a visceral experience that blends boxing games and gangster games into one pulse-pounding package. This game isn't for the faint-hearted; it's a no-holds-barred melee where you literally fight your way to the top. If you're a fan of fast-paced fighting action, this game is definitely one to look out for.
The first thing that sets Street Fight King of the Gang apart from other boxing games is its immersive narrative. You're not just in a ring; you're in a brutal gang war where only the strongest survive. This intense setting elevates every punch, jab, cross, and uppercut you deliver into an expression of survival, making each fight feel urgent and personal.
Fights in this game are as tactical as they are visceral. The treacherously increasing difficulty tests not just your reflexes but also your capacity to anticipate hits. It's not enough to be strong here; you'll also need to be smart, dodging your opponents' relentless punches while seeking an opportune moment to deal out punishment.
As a new entry in gangster games, Street Fight King of the Gang accentuates not just brawn but brains too. Mastering it requires agility and strategy alike – poised perfectly between raw action and intricate countermoves that makes each fight feel like a life-or-death struggle within the underbelly of society.
In conclusion, Street Fight King of the Gang offers an exhilarating fusion between boxing games and gangster games that will undoubtedly awaken your warrior soul. It's thrilling and immersive with an escalating challenge that ensures every battle is more intense than the last. Whether you're a seasoned fighter or breaking onto the scene, this game guarantees to satisfy your appetite for action-packed gameplay.
What are the best online games?