Street Fight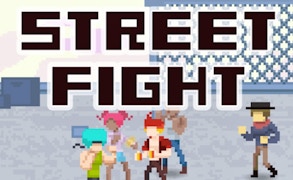 Street Fight
Enter the beat-'em-up world of Street Fight, a powerhouse among fighting battle games. It enchants its players with a perfect blend of pixel art and furious action, creating a captivating cityscape where danger lurks at every corner. As our young dashing hero, you'll be tasked to clean up the streets from the rampant gang menace, using nothing but your martial combat skills.
The gameplay is enticingly straightforward: you click, you fight, you win! But don't be deceived by its simplicity; it's what makes Street Fight rise above other clicker games. The intricate combinations coupled with the rewarding sound of knockout punches make this title a knockout in its own right.
You're not alone in these mean streets. Face off against 10 different enemy characters each equipped with unique skillsets and AI that will challenge your strategic armory. There's no monotony here as each foe presents a different hurdle to overcome.
A battle game wouldn't be complete without varied arenas. Street Fight takes it a notch higher by featuring 3 different maps: the hauntingly beautiful Sunset Avenue, the chilly battleground of Frozen Overpass and the gritty underbelly of Mean Street. Each locale brings its own flavor to the fights and ramps up your desire to wipe out thugs off every corner.
Pummeling enemies also reward you with coins that can be used to buy cool power-ups at the shop - because who doesn't like turning their martial prowess into an unstoppable force? A single click has never felt this empowering.
In conclusion, Street Fight creates an intoxicating mix of pixel games and fighting battle games where you're more than just a spectator; you're a force to reckon with. With its intuitive controls, compelling characters and brutal combat, it's an exceptional addition to any gamer's library.
What are the best online games?