Street Basketball Game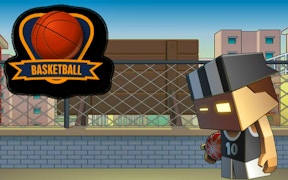 Street Basketball Game
Are you a fan of ball games? Do you live for the thrill of a three-pointer in basketball games? If so, the Street Basketball Game is an adrenaline-pumping ride you won't want to miss. Time to polish those handles and perfect that jumper – this game is all about Skill Games, and only the best will thrive.
This isn't just any ordinary basketball game; imagine the pulsating rhythm of streetball played right at your fingertips. You're going to need precision, focus, and a whole lot of hustle if you want to rule these streets. The Street Basketball Game transforms your screen into an urban basketball court where every hoop counts and every move can make or break the game.
What sets Street Basketball Game from other ball games is its dynamic gameplay. Basketball hoops aren't static, they are continually moving! This unconventional feature adds a whole new layer to your traditional basketball experience, making every shot a unique challenge.
This game isn't just about your score - it's about how many hoops you can put those balls through. And the more you sink, the better your rewards. Alongside regular baskets are bonus hoops, offering multiple balls or extra time power-ups for that extra boost when things heat up.
This addictive game requires agile fingers and quick thinking - put your real-life basketball skills into practice in this virtual playground. So dust off those cobwebs, it's time to hit the streets and show them who's boss! Fans of Skill Games will undoubtedly find their calling in Street Basketball Game's thrilling gameplay - get ready for some non-stop hoop action!
In conclusion, if you're looking for ball games that offer exciting gameplay with a twist, then the Street Basketball Game could be just what you're after. With its moving hoops and bonus power-ups, this isn't just a test of skill; it's a test of strategy too.
What are the best online games?