Spill It!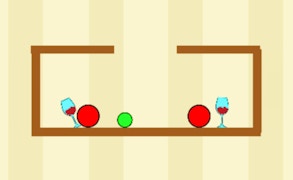 Spill It!
Get ready to dive into a world of amusement and challenge with the amazing ball game, "Spill It!". This thrilling puzzle game merges the dynamics of skill games with the fun of ball games to create a truly captivating experience.
Your mission, should you choose to accept it, is to drop balls strategically and bring down a series of intriguingly structured glasses. Every drop is a step closer towards your victory and let's not forget the immense satisfaction you get as you watch your targeted glass topple over and spill everything! It's not just about mindless clicking - precision, tactics, and strategy are key. Each move you make will decide your fate in the game.
"Spill It!" comes equipped with 100 glorious levels that are nothing short of intricate labyrinths ready to test your mettle. Starting may feel like a cakewalk but as you progress, each level unveils a higher degree of complexity that will leave your brain ticking for solutions. Move the ball deftly into place and release it at the right moment to witness the destruction unleashed.
This fusion of puzzle, ball,and skill games will keep you on your toes as you aim to master every single level. The design is simple yet captivating with vibrant colors paired up against brilliant backdrops which keeps players visually engaged.
In conclusion, "Spill It!" is an immersive experience that cleverly combines brain-racking puzzles with skillful movements. A must-have for those who thrive on challenging games and have an affinity for ball games. Dive into this electrifying gameplay experience and test how far your skills can take you!
What are the best online games?
TAGS