Spades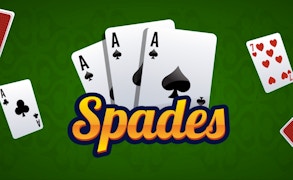 Spades
The most well-known card games are the ones that appear in casinos and other media, but Spades has more social popularity. This is a game that requires you to play with other people, and you can play solo or in teams. It revolves around the idea of using other players' cards to boost your score. There's strategy and gambling involved in terms of trying to predict how well you're going to do based on the cards that you have. However, unless you have the most powerful cards, you're never guaranteed a win and since games are played in rounds, you need to conserve what you can.
About Spades
Spades is a fun game that can be both active and passive. It's great for a relaxed party atmosphere with the possibility of turning extremely competitive on a dime. As you continue to play, you'll find your strategy and style constantly changing to keep up with the flow of the game. The twist is that you not only need to play the right cards but you also need to bet on the other players playing the right cards. The randomization of the cards and the plays are balanced out by your bid, one of the few things that you can control.
How to Play
This version of Spades has you playing with an AI partner against another AI team. The game begins when all the cards are dealt. The goal is to accumulate the most points through a combination of Tricks and Bids.
Before the game begins, you're asked to make a Bid on how many Tricks you'll get before the round ends. You can also make a Bid that you won't get any Tricks as well. Based on how much you bid, you'll lose or gain points if you have too many Tricks or not enough.
The deck is dealt out evenly to all the players. Your partner will play first and turns will go clockwise. Each player gets to play one card from their hand which must follow the suit of the previous card. After each player has played a card, the player who played the highest card takes the pile (earns a Trick) and then goes first next turn (becomes the leader). However, cards with the Spades suit are higher than others (eg. A 2 of Spades is higher than a King of Hearts). The current leader can't play a Spades card unless a non-leader had played one previously. To make Bid and play cards, all you have to do is click on the related icons.
The round ends when all the cards in the players' hands have been played. After that, points are totaled based on Tricks and Bids with the highest score winning. You can end the game after one round or go for multiple rounds.
Tips and Tricks
This is both a game of strategy and of chance. You start with quite a large pool of cards so there's no urgency to play your best ones. Depending on the bid you make, adjust your strategy accordingly. You should always save Spades for when they're needed, especially high ones.
Game Details
Developer: Edmond Hoyle (ancestor)
Platforms: Web Browser (PC and mobile), iOS, and Android
Languages: English
Spades Gameplay Tutorial
FAQs
Who created Spades?
Though it hasn't been fully confirmed, it is believed that this game originated in Cincinnati, Ohio between the years of 1937 and 1939. This is based on the claims made by George Coffin who created the related game of Bridge. The closest connection to the game is Edmond Hoyle, the creator of Whist from which Spades is a descendant.
Can you play with two players only?
While it's not recommended, it is possible to play this card game with only two people. It uses the same rules and setup but with reduced variables.
Games similar to Spades
This game is just one of many that can be found in the Card Games category of GamePix. Browsing through it will lead you to other titles with digital cards like Poker World, Baccarat, and Bridge.
What are the best online games?