Sort Among Them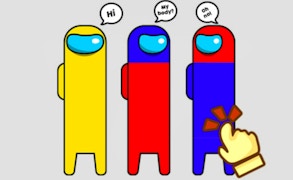 Sort Among Them
Welcome to the mesmerizing world of the brain game, Sort Among Them. With an innovative take on our beloved Among Us characters, this piece from the Hyper Casual Games is a refreshing blend of fun and challenge.
In Sort Among Them, the familiar astronauts are reinvented in a puzzling guise. Instead of merely identifying the impostors, you'll find yourself piecing together fragments of your favorite characters who have been whimsically scrambled up with their friends. Each solved puzzle feels just as victorious as surviving an emergency meeting in the original game.
This puzzle game sparks a different kind of adrenaline rush as compared to its predecessor. If Among Us was a thrilling chase, Sort Among Them is an intriguing hunt - a hunt to uncover hidden connections, to find that elusive missing piece. With every correct click, you are one step closer to unravelling the mystery.
The real beauty of Sort Among Them lies in its simplicity. The gameplay is so straightforward it fits perfectly into the category of clicker games. Yet, it demands an intense focus and sharp observation skills, making it far from mundane and predictable.
In conclusion, Sort Among Them is a compelling brain game that successfully carries forward the charm of Among Us into the realm of hyper casual games. It's more than just a clicker game - it's an engaging puzzle that's sure to keep gamers around the world hooked for hours on end.
If you're looking for a fun diversion that not only entertains but also puts your cognitive abilities to test - look no further than Sort Among Them. It's time to shuffle pieces and unleash your inner detective!
What are the best online games?