Solitaire Swift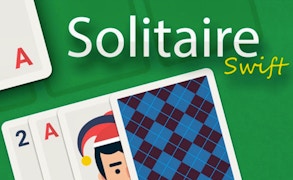 Solitaire Swift
Immerse yourself in high-speed strategic play with Solitaire Swift, a refreshingly distinctive face in the crowded world of solitaire games. This fast-paced card game's unique twist on traditional solitaire will engage both your mind and your reflexes.
As the name suggests, Solitaire Swift is far from your leisurely Sunday afternoon game of solitaire. It's a riveting race against the clock where precision, speed, and quick thinking are your best friends. Stacking cards in numerical order has never been more thrilling.
This game merges familiar solitaire concepts with innovative gameplay mechanisms, resulting in a remarkable fusion that captivates casual card game enthusiasts and hardcore gamers alike. The timing element introduces a layer of strategy often lacking in traditional solitaire games, ramping up the intensity and engagement at every turn.
In an overcrowded market filled with solitaire clones, Solitaire Swiftstands out like a bright beacon. Its perfect balance between classic solitaire rules and fresh speedy gameplay creates an entirely new experience, delightfully addictive and endlessly replayable. With its crisp graphics and smooth gameplay, it promises to keep you entertained for hours on end.
Whether you're seeking to stimulate your mind or simply looking for a thrilling way to pass the time, Solitaire Swift delivers on all fronts. It's not just a game; it's an adrenaline rush cleverly disguised as a card game. So if you have got a need for speed and are seeking an exciting twist to classic solitaire, then Solitaire Swift could just be the perfect deal for you.
What are the best online games?
Tags