Solitaire Story TriPeaks 4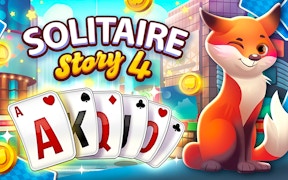 Solitaire Story TriPeaks 4
Solitaire Story TriPeaks 4: Embark on an Epic Card Game Adventure!
Welcome to Solitaire Story TriPeaks 4, the highly anticipated 4th installment of one of the most beloved Solitaire Card Games of all time! Get ready to immerse yourself in a captivating journey as Foxy, the game's adorable little character, takes you on an adventure to new and exciting destinations. From visiting distant countries to exploring fantastic landscapes and famous landmarks, including Australia, Antigua and Barbuda, Antarctica, Peru, Switzerland, the Netherlands, Majorca, and the Easter Island in Chile, this game offers a truly remarkable experience.
With over 3500 levels, Solitaire Story TriPeaks 4 stands out as one of the deepest and most engaging Solitaire games ever created. Whether you are a seasoned Solitaire player or a newcomer to the genre, you will find endless hours of entertainment and challenge within this game. Prepare to test your skills, exercise your strategic thinking, and have a blast with this addictive card game.
One of the highlights of Solitaire Story TriPeaks 4 is the variety of gameplay options it offers. Daily Missions provide you with unique challenges to complete every day, keeping the game fresh and exciting. Take on the Weekly Air Balloon Challenges and soar to new heights as you strive to achieve high scores and unlock special rewards. With dozens of new card designs, you can customize your gameplay experience and add a personal touch to every game you play.
But what truly sets Solitaire Story TriPeaks 4 apart is its attention to detail and stunning visuals. Each destination you visit is beautifully rendered, allowing you to immerse yourself in the atmosphere and ambiance of the location. From the breathtaking landscapes of Australia to the historical landmarks of Peru, every backdrop is meticulously designed to transport you to another world.
As you progress through the game, you will encounter various challenges and obstacles that will put your Solitaire skills to the test. But fear not, as Foxy will be there to guide you every step of the way. With its intuitive and user-friendly interface, Solitaire Story TriPeaks 4 ensures that players of all ages and skill levels can enjoy the game to its fullest.
Whether you're looking for a quick game to pass the time or a deep and immersive gaming experience, Solitaire Story TriPeaks 4 has it all. Its addictive gameplay, stunning visuals, and endless levels will keep you coming back for more. So, what are you waiting for? Join Foxy on this epic Solitaire adventure and see how far you can go!
What are the best online games?
Tags