Solitaire Story - TriPeaks 2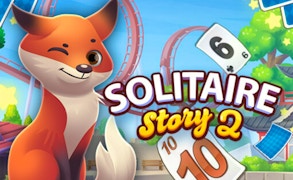 Solitaire Story - TriPeaks 2
Immerse yourself in the captivating journey of Solitaire Story - TriPeaks 2 - the most riveting solitaire game that will take your card gaming experience to epic new heights! In a realm where solitaire games are adored by many, this game emerges as a shining star, bombarding you with endless hours of engaging fun and intriguing puzzles.
The core gameplay revolves around the classic solitaire framework, but with a thrilling twist. As a player, your mission is to strategically select cards that are either one value higher or lower than the card on your deck. The tactful play of your hand decides your progress in this challenging game. If fortune doesn't favor you with a suitable card, stay calm and pick another from your deck - it's a testament to patience and strategy.
But beware! Your venture through Solitaire Story – TriPeaks 2 isn't all smooth sailing. You are armed with just 5 lives. Should you reach the end of your deck without achieving success, you lose one precious life. Yet all hope is not lost as an impressive clear of 5 cards in succession fetches you extra free cards for your deck!
Apart from its compelling gameplay, what sets Solitaire Story - TriPeaks 2 apart from other solitaire games is its delightful world-traveling element. As you shuffle and deal, you also accumulate stars which help unlock different areas, broaden your card collections and reveal bonus items. It's not just about playing cards; it's about embarking on a grand adventure!
In conclusion, if you're enthralled by strategic puzzles underlined by classic card dynamics infused with new-age enhancements, then Solitaire Story - TriPeaks 2 is an absolute must-play for you!
What are the best online games?
Tags