Soccertastic World Cup 18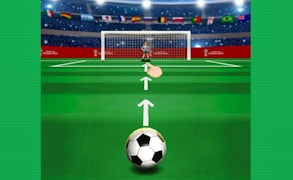 Soccertastic World Cup 18
I've just completed an electrifying round of Soccertastic World Cup 18, a potent blend of skill and sports, that truly exemplifies the pulse-pounding spirit of World Cup games. A delightful addition to the roster of soccer games available, it marches onto the field with an enticing premise and delivers an immersive experience for all football enthusiasts.
Don't be fooled by its seemingly simple mechanics; Soccertastic World Cup 18 is a beast that demands both quick reflexes and strategic depth. As a part of the rewarding genre of skill games, it challenges you to step up your game. You'll find yourself swiping furiously to score as many goals as possible in this 2018 penalty game version. What seems like a breeze at first quickly evolves into a thrilling test of skill, keeping you on your toes every second.
The game stands proudly among its peers in the field of football games. It's not just about scoring goals - it's about doing so with panache, precision, and speed. The feverish pace laid out by this game is set to charm you off your feet.
In addition to being convincing as one among many ball games, Soccertastic World Cup 18 also manages to capture the seductive appeal of being on a world stage, rubbing shoulders with the best in the world. It boasts an intensity that's comparable to any real-life soccer match and is surely one for any true football lover who enjoys some adrenaline-pumping action.
If you're passionate about soccer or simply enjoy challenging skill-based experiences, then Soccertastic World Cup 18 is your ticket to unadulterated football frenzy. Trust me when I say that this game will have you feeling every heartbeat of the beautiful game.
What are the best online games?