Soccer Squid Game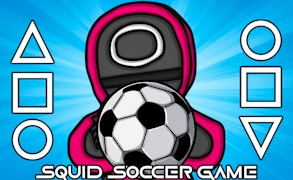 Soccer Squid Game
Description
Prepare to jump straight into the action with Soccer Squid Game. This dynamic soccer game requires you to take on the role of a Squid Goalkeeper tasked with preventing a barrage of soccer balls from scoring. Show off your skills as you dive in any direction and at any height, pulling off impressive saves. Also, look forward to an exciting bonus round if you manage to save the last goal!
How to play
Playing Soccer Squid Game is all about quick reflexes and strategic dives. Click or tap on the screen to move your goalie and attempt your save. The direction of your dive will be determined by the point at which you click on the screen. Remember, successful saves build up your score, and saving the final goal triggers a thrilling bonus round!
Tips and Tricks
Precision is key in Soccer Squid Game. Monitoring the trajectory and speed of incoming balls will help in timing your dives right. Don't have a one-size-fits-all approach; each shot requires unique handling! Last but not least, perfect your strategy for saving that crucial last goal to reach the bonus round.
Features
Vibrant Graphics: Enjoy visually pleasing gameplay.
Bonus Round: Save the last goal to trigger this thrilling feature!
Addictive Gameplay: The fast-paced nature of this game makes it hard to put down.
Rewards: Earn points for every successful save you make.
What are the best online games?