Soccer Physics 2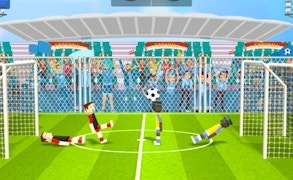 Soccer Physics 2
Welcome to the exhilarating world of Soccer Physics 2, a masterpiece among soccer games that's designed to ignite your competitive spirit. A delightful blend of skill games and soccer, this game teems with excitement and challenges that will test your football prowess like never before.
What sets Soccer Physics 2 apart from other football games? It's all in its unique physics-based mechanics which bring realism and unpredictability, mirroring the thrilling unpredictability of real-world soccer games. The controls are intuitive yet challenging, demanding superior hand-eye coordination, quick reflexes, and a strategic mindset. This is not a game for the faint-hearted; it's a battle of skills.
Experience the joy of victory and sting of defeat in real-time as you take on opponents in single-player mode against computer adversaries or take the competition to another level with 2 player games. If you're feeling particularly daring, search for opponents beyond your living room in the stimulating sphere of soccer games online. There certainly is no shortage of competition.
Whether you're a die-hard fan of soccer games or an enthusiast of skill games, Soccer Physics 2 caters to all gaming palates with its seamless blend of sports drama and strategy. From scoring spectacular goals to executing perfect slide tackles, every minute you spend on this game guarantees an adrenaline-fueled roller-coaster ride that will leave you wanting more.
In conclusion, Soccer Physics 2 emerges as more than just another title in the sea of soccer games - it's a testament to what an immersive and challenging experience football can be when amplified by physics-based gameplay and peerless competition. Ready to play? Your field awaits!
What are the best online games?