Snake Swipe Puzzle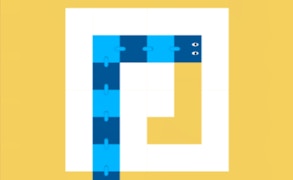 Snake Swipe Puzzle
Snake Swipe Puzzle is a charming blend of fun and brain-teasing challenges, making it the perfect addition to the realm of Games for Kids and fans of brain games.
As you dive into this delightful game, you'll find yourself in a maze filled with block snakes possessing soft bodies. Your task? To navigate through this labyrinth, discovering an appropriate path to fulfill the maze, covered by these playful serpents. A charming adventure or a nail-biting challenge? We'll let you decide.
The game seamlessly integrates elements from popular snake games, transporting you back to the charm of classic gaming. Yet, it's refreshingly modern and innovative in its approach. The 'swipe to move' mechanism ensures smooth and effortless navigation through the maze, adding an interactive touch to your gaming experience.
Kids would certainly appreciate the vibrant graphics and adorable snake characters that this game has to offer. But don't be fooled by its cute exterior! Even adults will find themselves engrossed in applying logical reasoning and strategic planning to be successful in this game.
In terms of gameplay, Snake Swipe Puzzle subtly incorporates learning with fun. Not only will it keep young minds engaged, but also develop their cognitive skills such as problem-solving ability and spatial thinking.
To sum it up, Snake Swipe Puzzle is not just another kid's game. It brings together fun graphics with puzzling challenges that are sure to sharpen your mind while keeping your fingers busy. If you're looking for a game that offers more than sheer entertainment – a game that tests your logic, keeps you engrossed and helps enhance cognitive abilities – then Snake Swipe Puzzle is your top choice in the arena of brain games and puzzle games.
What are the best online games?
TAGS