Snake Puzzle Challenge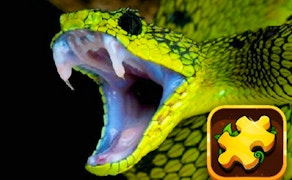 Snake Puzzle Challenge
If you're a fan of brain games, animal games, and snake games, then look no further. Unleash the puzzle-solver within you with the Snake Puzzle Challenge. Ideal for jigsaw enthusiasts and gamers of all ages, this game is the perfect regimen to keep your cognitive abilities in peak shape.
The Snake Puzzle Challenge is more than just a standard jigsaw puzzle game. This isn't your average piece-together-the-bits kind of game. It's an intricate labyrinth where you slither through complex pathways and intricate challenges. Each image, each level is an enigma waiting to be solved by your mighty grey cells. The game offers three modes: easy, medium, and hard for each picture, ensuring a captivating experience no matter what your proficiency level is.
Race against time isn't the theme here. Unlike many other brain games, The Snake Puzzle Challenge doesn't impose any time restrictions on you. You are free to take your time, mull over each move with tranquility, making it a soothing yet stimulating exercise for your brain.
The true magic of this game lies in its simplicity meshed with complexity – a seeming paradox that draws you in deeper into the realm of puzzles. The snake themes add an exotic twist to the classic puzzle genre, making it stand out in a sea of generic animal games.
In conclusion, Snake Puzzle Challenge is not just another addition to the vast world of snake games. It's a unique fusion of mental acuity and gaming fun - an ideal platform for both casual gamers seeking entertainment and serious gamers looking for a mental workout that deviates from the blockbuster action-adventure genre.
Dive into this enthralling world today! Exercise your mind while indulging in some digital fun with Snake Puzzle Challenge!
What are the best online games?