Slap Kings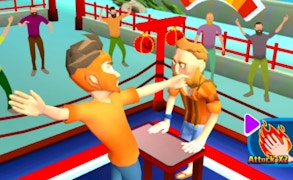 Slap Kings
Step into the chaotic and uproarious world of Slap Kings, a game that redefines the genre of battle games. With its unique blend of quirky cartoon aesthetics and thrilling arcade features, this game brings to your gaming arena an unusual perspective on what a 'fight' truly means.
Imagine a world where strength is measured not by muscular armament but by the mastery of rhythm and precision. In the ring of Slap Kings, every slap counts! It's not about mindless violence, but strategy and timing. Strike your challenger when they least expect it and watch as their hit points dwindle away!
You start as an amateur slapper but don't be dismayed. With every slap you land, every opponent you defeat, you ascend closer to becoming the most formidable challenger in this entertaining universe of fun games. Embrace the journey as each victory strengthens your skills, pushing you to challenge yourself in higher difficulty levels.
Slap Kings thrills with its carousel of colorful characters, each with their own health bars and peculiar styles to keep you on your toes all day. One moment, it's a bulky wrestler with eyes that scream 'bring it on!' The next - an intimidating mob boss whose mere gaze could freeze your blood!
The joyride in Slap Kings doesn't end with winning battles; it transcends into upgrading your skills using rewards won from previous battles. Each upgrade is a step closer to becoming the unrivaled slapping champion in these addictive battle games! The blend of simplicity, exhilaration, and sheer fun in Slap Kings offers gamers an unmissable journey worth every slap.
What are the best online games?
Tags