Skibidi Snake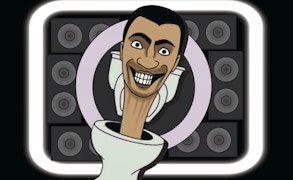 Skibidi Snake
Description
Embark on an epic arcade adventure with Skibidi Snake. Assume the role of a growing snake with an insatiable appetite for numbers! Navigate through the arena, gobble up number-coded food, and grow your snake longer. But beware! Be sure not to bite your own tail or hit any barriers as it would be game over. With its engaging gameplay and zesty graphics, Skibidi Snake is sure to keep you glued for hours.
How to play
To play Skibidi Snake, use your arrow keys to steer your snake towards the number-coded food present on the screen. The aim is to eat as many as possible to grow your snake longer. As you progress further in the game, you'll encounter more barriers and faster speed that adds to the fun and challenge of this absorbing game.
Tips and Tricks
Avoid enclosing yourself within a loop or you risk colliding with your own body. Always plan ahead and anticipate a clear path for your growing snake. Lastly, keep an eye out for those higher number-coded foods, they lead to quicker growth and higher scores!
Features
Slick arcade style gameplay with intuitive controls.
Tons of levels with increasing difficulty as you progress.
Bright and colorful graphics to enhance player experience.
Engaging number-based mechanics promoting strategic gameplay.
Easy-to-learn yet hard-to-master gameplay.
What are the best online games?