Ski Rush 3D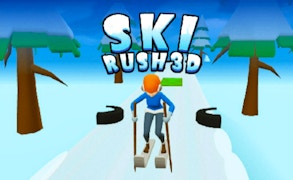 Ski Rush 3D
Immerse yourself in the exhilarating speed and stunning visuals of Ski Rush 3D, one of the most captivating skateboard games on the market. This thrilling game perfectly integrates the challenges of skill games with the pure enjoyment associated with fun games.
If you've ever dreamed of hitting the ski slopes with nothing but your courage and a pair of flexible legs, Ski Rush 3D brings that dream to your screen. It's an exercise in swift decisions, forcing you to dodge obstacles with simple left and right movements. The controls are as easy as they come but don't let that fool you into thinking the game itself is a walk in the park.
The charm of Ski Rush 3D lies in its deceptively simple premise. One moment, you're casually carving your path down serene, snow-topped slopes, and the next, you're abruptly swerving to avoid an insistent obstacle. It's an endless series of adrenaline-filled seconds that will keep your heart pounding until you reach your destination.
To succeed in this game, it's not just about avoiding obstacles; it's about choosing wisely which path to take. The game rewards quick thinking and swift action, making every game session a dynamic experience filled with sudden turns and unpredictable outcomes.
Ski Rush 3D epitomizes what all great skateboard games and skill games should be: challenging yet fun, demanding yet rewarding. Whether you're a serious gamer looking for a new challenge or just someone seeking a quick dose of entertainment, Ski Rush 3D will not disappoint.
In conclusion, Ski Rush 3D takes all the fun aspects of fun games, intertwines them with elements peculiar to skateboard games, and wraps them up neatly into an appealing package designed specifically for lovers of extreme sports and high-octane action. It's not just a game – it's an experience worth having.
What are the best online games?