Shower Run 3D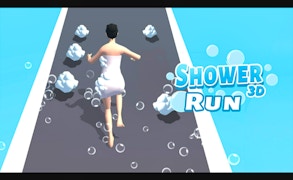 Shower Run 3D
Immerse yourself into the soapy world of Shower Run 3D, a noteworthy addition to the kingdom of Hyper Casual Games. Championing the genre of Running Games, Shower Run 3D captures the thrill of parkour with its fast-paced action nudged with the tranquility of a bathroom backdrop. The perfect blend of interest and excitement in an ever-playful setting!
Arcade gaming enthusiasts, ready your controllers for this dynamic, casual arcade game that serves a deceptively simple premise wrapped in complex strategic layers. The heart and soul of Shower Run 3D lie in your ability to exhibit swift, agile movements to collect as many bath bubbles as possible while skillfully dodging the menacing obstacles that obstruct your gleaming path.
In Shower Run 3D, your journey is as exhilarating as it is challenging. Lose all your bath bubbles, and you face inevitable defeat. But fret not! With intermittent superbubbles available for pickup throughout your run, even mistake-prone gamers will find joy in this parkour-inspired madness.
This Hyper Casual Game showcases exemplary simplicity with intuitive controls making it refreshingly accessible to all gaming aficionados. Despite its seemingly breezy narrative and easy-to-grasp mechanics, Shower Run 3D demands sharp focus and quick reflexes from its players.
So are you up for a sprint amidst a cascade of bubbles? Step into your virtual bathroom attire, gather all the bath bubbles you can hold on to while avoiding precarious obstacles and embark on an effervescent run! Shower Run 3D invites you to revel in its seamless blend of arcade gaming tradition and innovative hyper-casual design!
All in all, whether you're an arcade game zealot or simply someone searching for a quick yet thrilling pastime - Shower Run 3D is sure to impress! Come join us, play the fun away and experience this bubble-bursting frenzy firsthand!
What are the best online games?