Shadow Fighters: Hero Duel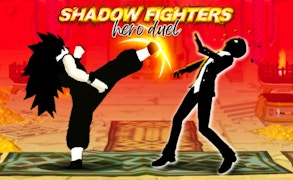 Shadow Fighters: Hero Duel
In the realm of fighting genre, Shadow Fighters: Hero Duel offers a unique blend of adrenaline-pumping action and engaging gameplay that vaults it beyond many conventional battle games. Emerging from the deepest shadows with unparalleled skills, our heroes are ready to demonstrate their prowess in the ring.
The premise is straightforward but captivating. You're immersed into a globe-trotting championship, pitting eight highly skilled fighters against each other. Whether you're a fan of solo gameplay or you relish the competition of battling a friend in 2 player games, this game provides it all.
The mettle of these pugilists, trained under the gloomiest shadows, shines through in every punch, every hook, and every uppercut. The night battles offer a thrilling dimension to traditional boxing games. The darkness doesn't inhibit their combat style; instead, it fuels they're relentless assaults.
The hallmark of Shadow Fighters: Hero Duel is its varied venues and gameplay modes. You're not restricted to monotonous settings or predictable scenarios. Each setting comes with its unique challenges and opportunities for strategic play. Moreover, you can choose your path by playing in story mode.
This game isn't just about throwing punches; it's about strategizing your moves and adapting to your opponent's style – each fight feels different from the last. Shadow Fighters: Hero Duel is more than just a game; it's an immersive fighting experience that pushes boundaries and redefines what we expect from boxing games.
In conclusion, Shadow Fighters: Hero Duel takes battle games to a whole new level with its compelling characters and diverse gameplay modes. For anyone who loves boxing or fighting games, this game is well worth exploring.
What are the best online games?